A mortgage broker acts as a middleman between you and potential lenders. The broker's job is to compare mortgage lenders on your behalf and find interest rates that fit your needs. Mortgage brokers have stables of lenders they work with, which can make your life easier.
While finding a new home can be exciting, navigating the mortgage process can be overwhelming for some. Knowing what steps you need to take can help the process go more smoothly. Once you have an accepted offer, here's what you need to know to make sure your mortgage application stays on track:
Submit your application. Now that you've found the home you want to buy and a lender to work with, the mortgage process begins. At this stage, your lender will have you fill out a full application and ask you to supply documentation relating to your income, debts and assets.
Order a home inspection. Schedule a home inspection as soon as you can. Doing so will give you adequate time before your closing date to negotiate with the seller if the inspection reveals any unforeseen issues.
Why do I need a home inspection?
A home inspection is an added expense that some first-time homebuyers don't expect and might feel safe declining, but professional inspectors often notice things most of us don't. This step is especially important if you're buying an existing home as opposed to a newly constructed home, which might come with a builder's warranty. If the home needs big repairs you can't see, an inspection helps you negotiate with the current homeowner to have the issues fixed before closing or adjust the price accordingly so you have extra funds to address the repairs once you own the home.
During the inspection, be sure to ask questions and bring a checklist of things you want information on. Note that a comprehensive inspection should not only bring defects and problem areas to your attention, it should also highlight the positive aspects of a home as well. When you receive the final report, prioritize the issues and decide whether you want to negotiate those items with the sellers. Remember: Every deal is different and negotiable.
Be responsive to your lender. If you applied and qualify for a mortgage, you'll receive conditional approval. At this stage, your lender may require additional documentation. Make sure to respond promptly to keep your application moving forward.
Purchase homeowner's insurance. Your lender will require proof of insurance before the loan can receive final approval.
5 things to know about homeowner's insurance
Know about exclusions to coverage. For example, most insurance policies do not cover flood or earthquake damage as a standard item. These types of coverage must be bought separately.
Know about dollar limitations on claims. Even if you're covered for a risk, there may be a limit to how much the insurer will pay. For example, many policies limit the amount paid for stolen jewelry unless items are insured separately.
Know the replacement cost. If your home is destroyed, you'll receive money to replace it only to the maximum of your coverage, so be sure your insurance is sufficient. This means that if your home is insured for $150,000 and it costs $180,000 to replace it, you'll only receive $150,000.
Know the actual cash value. If you choose not to replace your home when it's destroyed, you'll receive the replacement cost, less depreciation. This is called actual cash value.
Know the liability. Your homeowner's insurance will generally cover you for accidents that happen to other people on your property, including medical care, court costs and awards by the court. However, there's usually an upper limit to the amount of coverage provided – be sure your coverage is sufficient if you have significant assets.
Let the process play out. Know what's happening behind the scenes: Your lender will order a home appraisal to ensure that the value of the home you're buying is in line with the purchase price. The appraiser will visit the home and compare it to other recently sold homes in a similar price range. Your lender will also order a title search to make sure there are no outstanding liens on the property. Learn more about the home appraisal process
Avoid taking on new debt. While your loan is in process, avoid opening new credit cards or making other major financial changes. New loans or other changes that affect your debt-to-income ratio could get in the way of your mortgage approval.
Lock in your rate. If you haven't already locked in your interest rate with your lender, you'll want to do so. Your rate must be locked in no later than 10 days prior to your closing date.
Review your documents. Once your loan is approved and your inspection, appraisal and title search are complete, your lender will set a closing date and let you know exactly how much money you'll need to bring to your closing.
Arrange to pay your down payment and closing costs. You'll need to get a cashier's check or arrange to wire money to cover your down payment and closing costs. Estimate your closing costs
Close on your home. At the closing, be sure to read all the documents you receive and ask any questions you may have about the terms of the agreement. Then, after you've signed everything, you can unlock the door and celebrate your new home!
Our Home Loan Navigator can help streamline your mortgage process. You can use this online tool to track your mortgage application, receive disclosures and electronically sign and submit certain documents.
Property
Apply for Loan
Select most suitable loan program
Selected Lender is sent loan application
Appraisal is ordered
Title work is ordered
Lender sets up the loan
Lender processes the loan
Underwriter reviews loan
Underwriter decisions loan
Underwriter conditions approval
Appraisal is accepted
Title work is accepted
Collect and provide requested conditions
Underwriter finalized approval and Clear to Close is issued
Loan closes
Loan is funded
You have decided you are ready to buy your next home, the one that will help you to live out where you want to be in the next stage of life. Before you go house shopping and fall in love with a home, it is wise to find out what kind of mortgage you could qualify for. The best way to go about the mortgage process is to shop around. One of the easiest ways to find out about all of the options available to you is to work with a mortgage broker who can walk with you through the entire mortgage process from start to finish.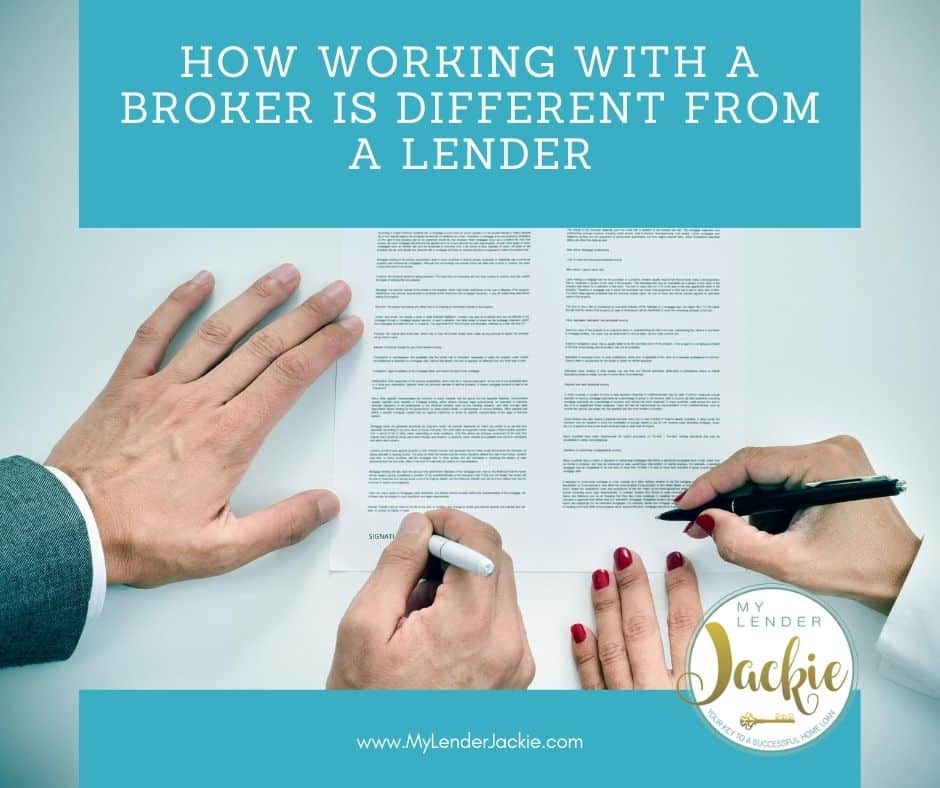 You may have heard the terms mortgage broker and or mortgage lender or lending agent. Aren't these all the same thing? Don't they just describe the person you talk to about getting a home loan? A mortgage broker is actually different from a lender and a lending agent. Let's go over who a mortgage broker is, how they are different, and how to find a good one.  
Related: How to Buy a Home in a Competitive COVID Market
What a Mortgage Broker Does
A mortgage broker is sort of like a buyers' agent, but for mortgages. They communicate between you and the banks trying to sell you their mortgage product. The mortgage broker is there to work on your behalf and to shop around for the best mortgage options from several lenders to fit your personal financial needs. Great mortgage brokers will have a well-developed relationship with several lenders as well as know what others are currently offering to help make the process of applying for a loan much easier.  
Mortgage brokers must be licensed and have legal regulations they must follow as financial professionals. Mortgage brokers will do much of the legwork including gathering all application and qualification documents, pulling credit scores, and verifying current income and employment status. They gather all of the information and put it into their system then apply for several loans all at once on your behalf. They do the shopping around so you don't have to go through it several times with several different lending agents.  
After you talk over you options with your broker and decide on the loan offer you want to go with the broker will continue to work for you by collaborating with the lender's underwriting department, the closing agent, and your real estate professional to keep finalizing your home purchase as smooth as possible.  
Getting Mortgage Approval After Loan Modification
How Mortgage Brokers are Different From Loan Officers
A loan officer, sometimes referred to as a lending agent, are employees of just one lender or bank. They get paid a salary plus commission dependent on closing loans for their bank. Their incentive is to make the bank money through accruing interest on new loans opened.  
A mortgage broker will work independently or under a brokerage firm and deals with several different lenders or banks. They earn a large sum of their income from lender-paid fees.  
How Mortgage Brokers Make Money
In a majority of cases, the mortgage broker receives a percentage payment from the lending agency. It is like a finder's fee. They found the bank a new client and the bank is giving them a cut of the profit. Though they receive their payment from the lender they are still looking out for the borrower's best interests first, because no matter what loan you apply for they will get paid.  
Sometimes a broker will be paid through borrower-paid compensation. This is when the borrower chooses to pay the broker themselves. When looking for a broker ask them about their lender-paid compensation rate and their borrower-paid compensation rate. It is a good idea to ask a few different brokers about their rates and what services they will provide to search for the best options for you.  
Secrets to a Real Estate Appraisal
Finding the Right Broker
The best way to find a great broker is very similar to finding a real estate agent. Start by asking friends who they used and specific facts on why they liked their services. Do some online homework about brokers in your area. Look at online reviews, read bios, and research experience. Ask your real estate agent who they have worked with in the past and who their customers seem to give good feedback about.  
Finally, check them out through the state's licensing authority to be sure they have a current license and are in good standing with requirements.  
If you are looking for a mortgage broker in California, I would love to work for you. I have many years of experience a
A mortgage broker is an intermediary who brings mortgage borrowers and mortgage lenders together, but who does not use their own funds to originate mortgages. … The mortgage broker also gathers paperwork from the borrower and passes that paperwork along to a mortgage lender for underwriting and approval purposes.